Bask in the ambience of your own private castle near Lake George. Check out our blog series on our stay and how you can rent Highlands Castle.
Checking out the Royal bedroom. This was my first experience renting a castle. When I arrived at Highland Castle, driving through the gates protected by concrete lion sentries was like driving straight into a fairy tale. The Castle exterior composed of a stonework masterpiece accentuated with carefully placed statues of horses, jesters, angels, and lions. The grounds were exquisite, filled with grand metal light fixtures, lush green grass, and towering trees.
But even more beautiful were owners John and Yvonne as they greeted us with a smile and welcomed us to their Castle. You could immediately tell they were humble, genuine, and kind.
They gave us introduction to the Castle: Castle Cottage, Castle Gatehouse and the two options at the main Highlands Castle: Royal Bedroom and King's Suite. They graciously answered the thousands of questions I asked during our stay.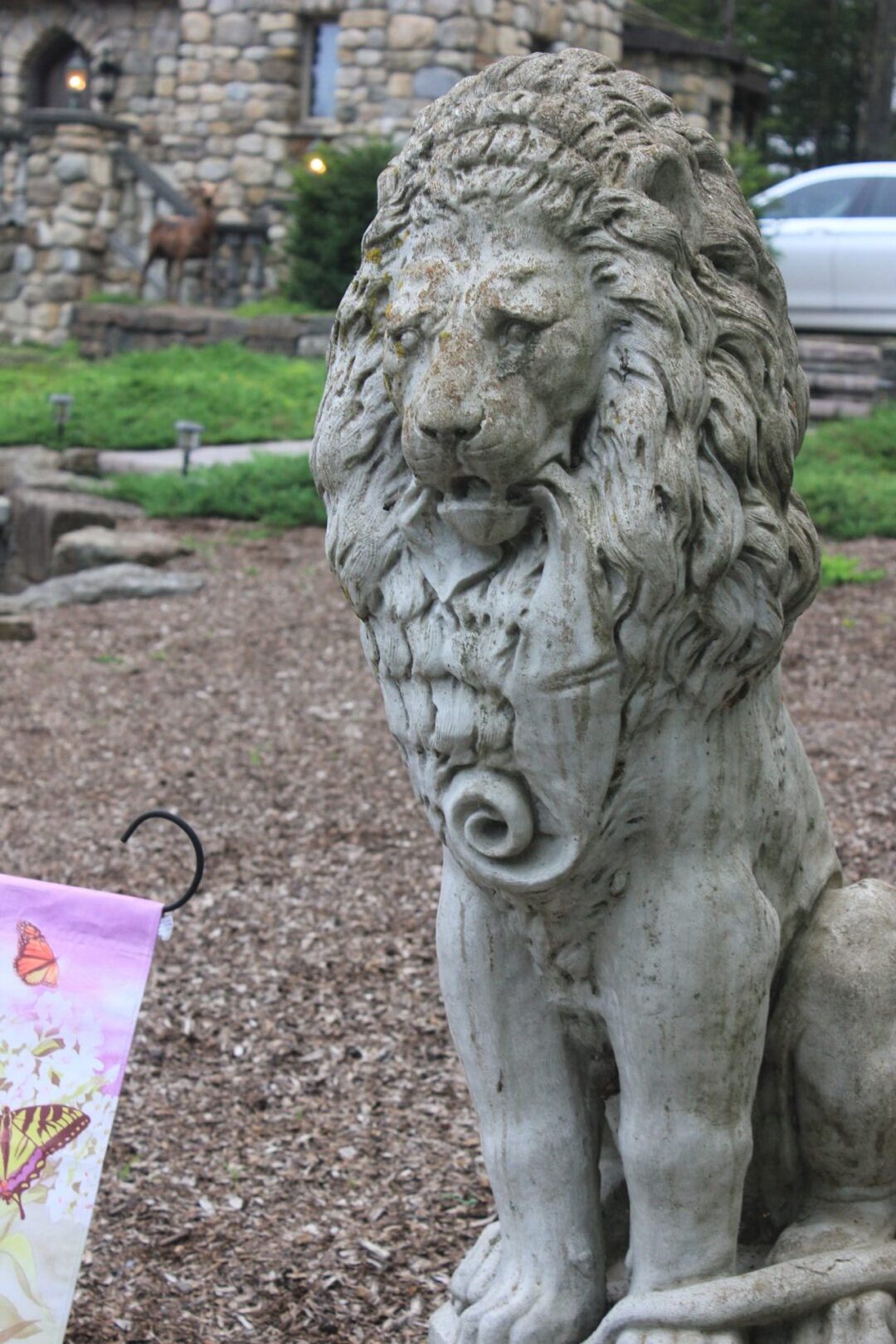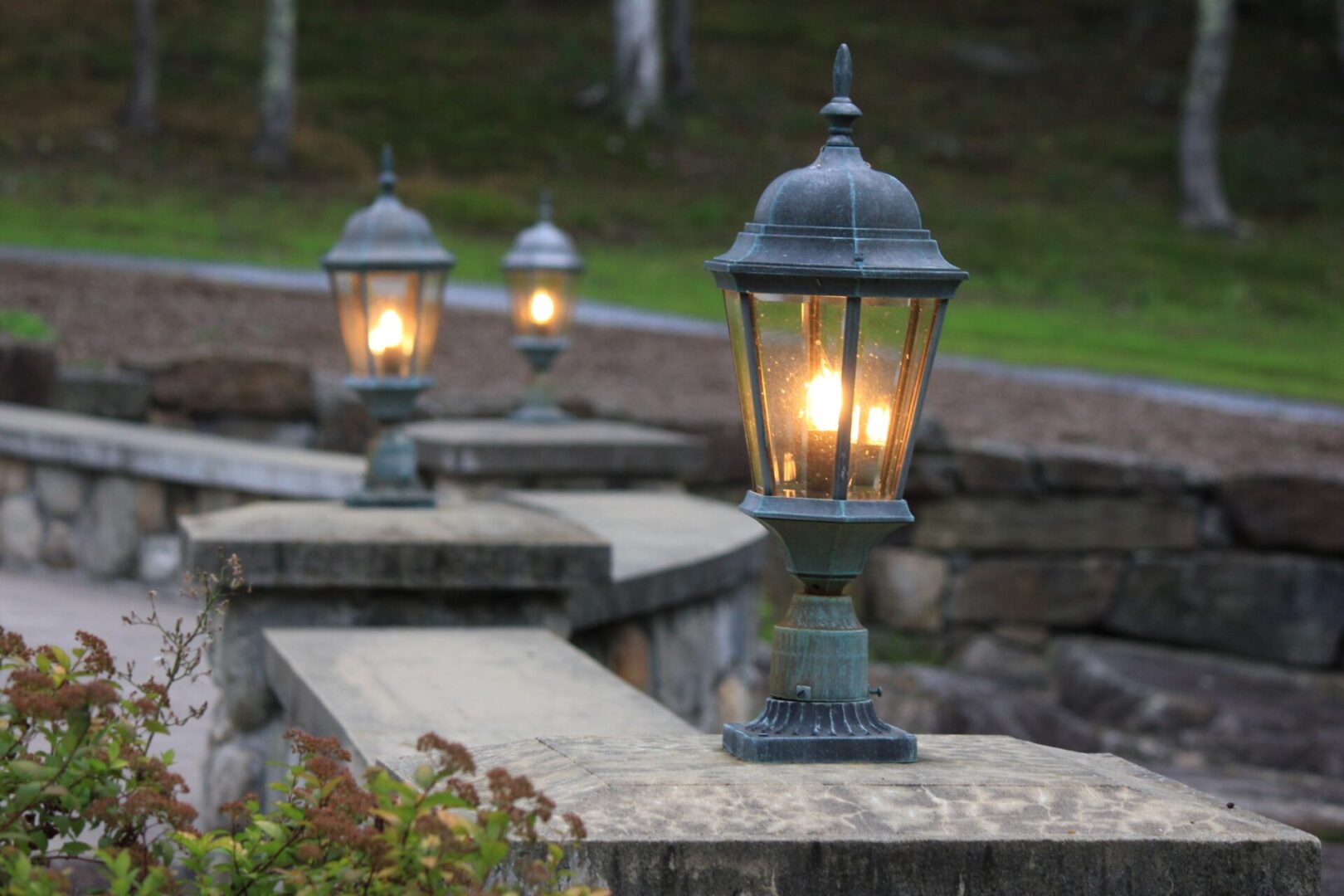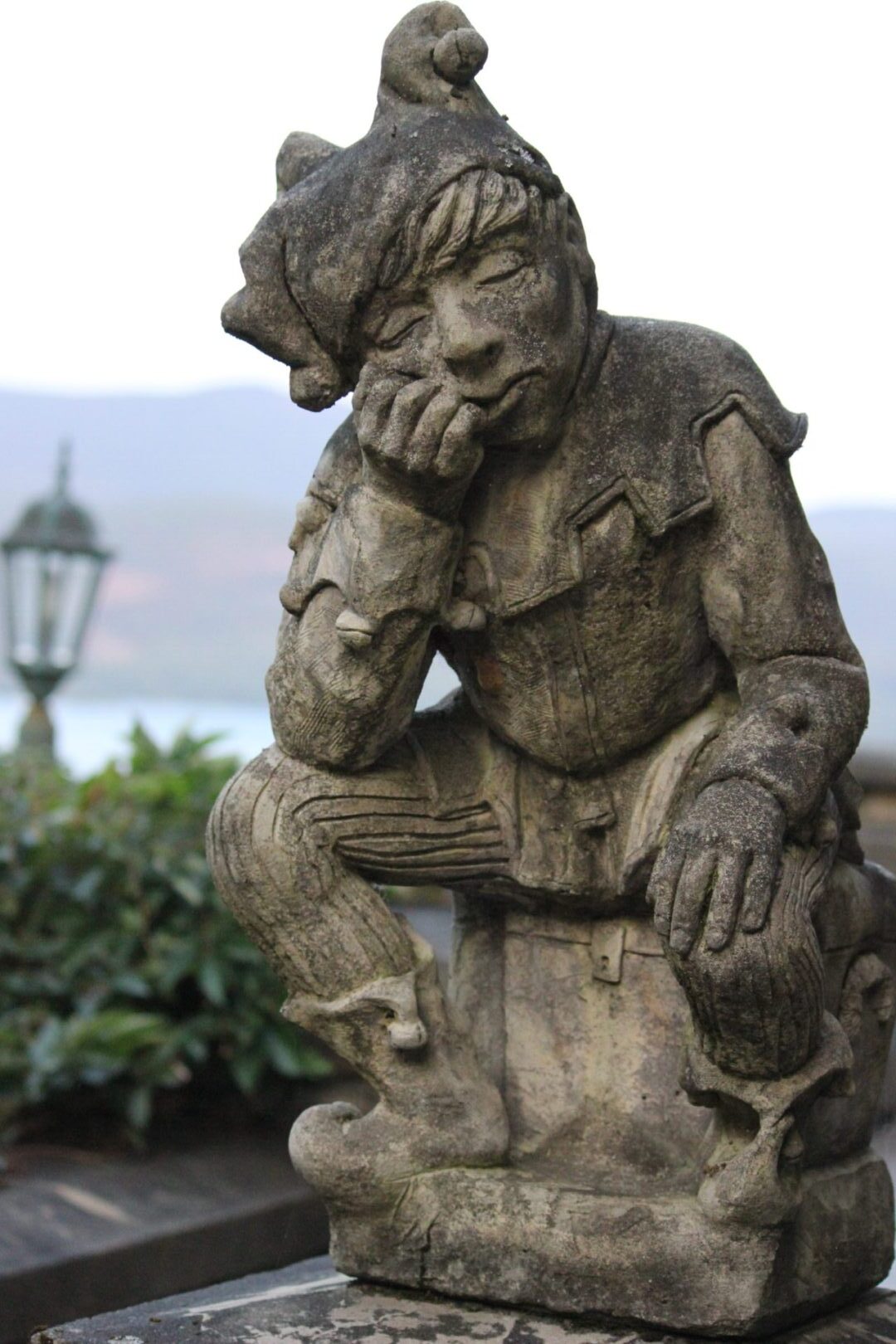 As we made our way up to the beautiful Royal bedroom, my eyes were trying to keep up with my feet as I was distracted by all of the exquisite detail, woodwork, and décor. The first thing that immediately caught my attention was the Romeo and Juliet stained glass doors adjacent to the grand staircase. I was anxious to learn about the origin of those stained glass doors and how they ended up at Highlands Castle, but first I needed to check out our room, but I'll come back to the Romeo and Juliet stained glass doors later.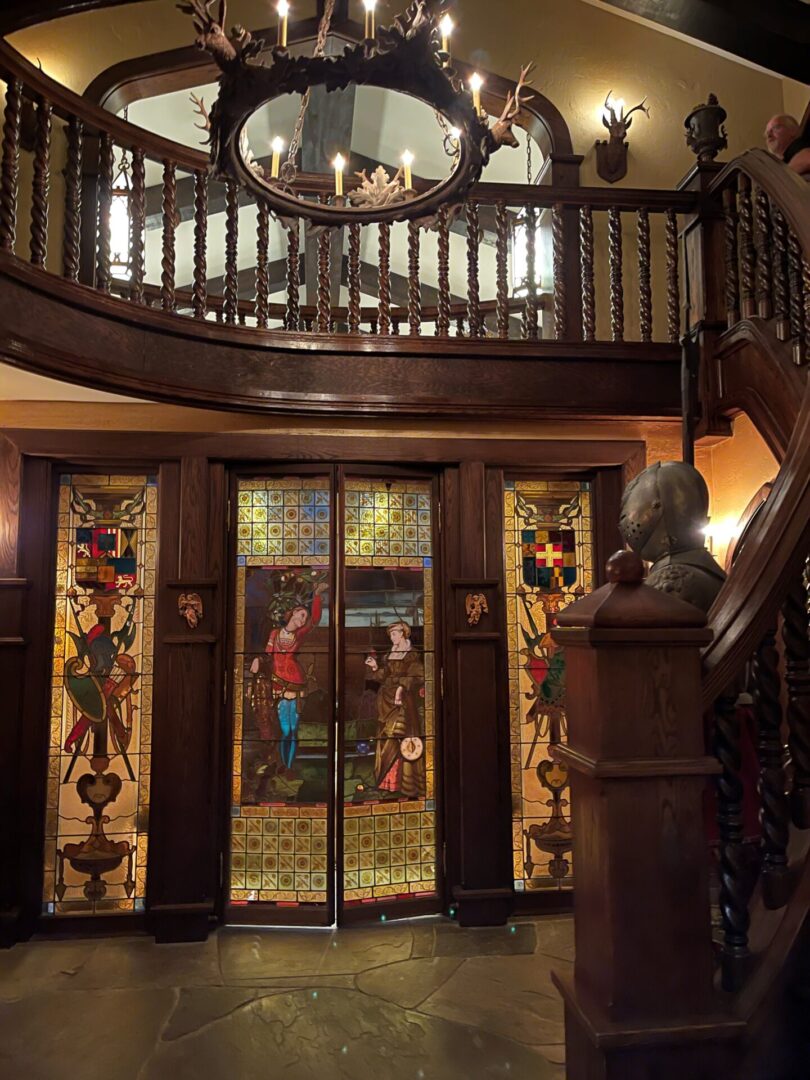 I was pleasantly surprised by the sophisticated and serene Royal Bedroom. The royal color palette blended with vintage furniture and décor embellished with fine artistry made me feel right at home. I loved the tiny sitting room and pictured it as a Queen's private reading tower encircled by three windows all looking down to Lake George.
I imagined the full-length vintage wood framed mirror was a secret passage, only to discover that it was just a masterful way to conceal linens and supplies. The sofa in the Royal bedroom emphasized a regal vibe that beckoned you to sit back and relax in ultimate comfort while gazing out the window at Lake George. The elegant stamped metal ceiling added to the rooms' authentic look.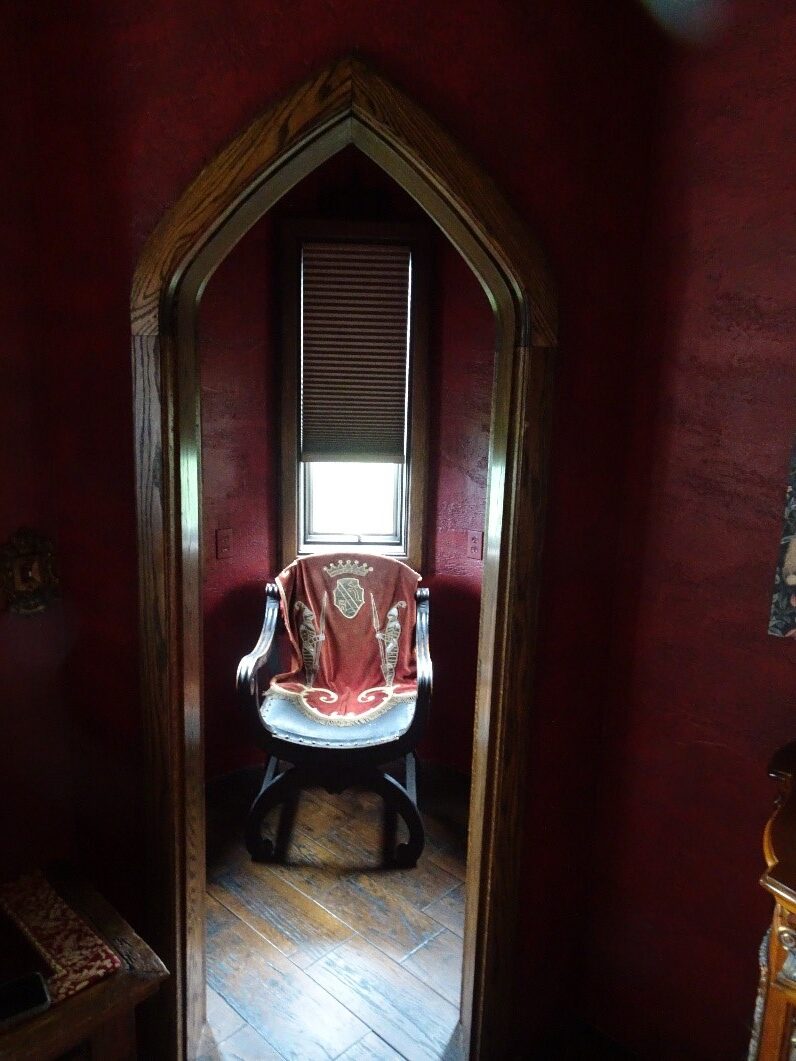 There was also a latched window when opened looked down into the Great room. We'll chat about the Great Room when get back to the Romeo and Juliet stained glass doors.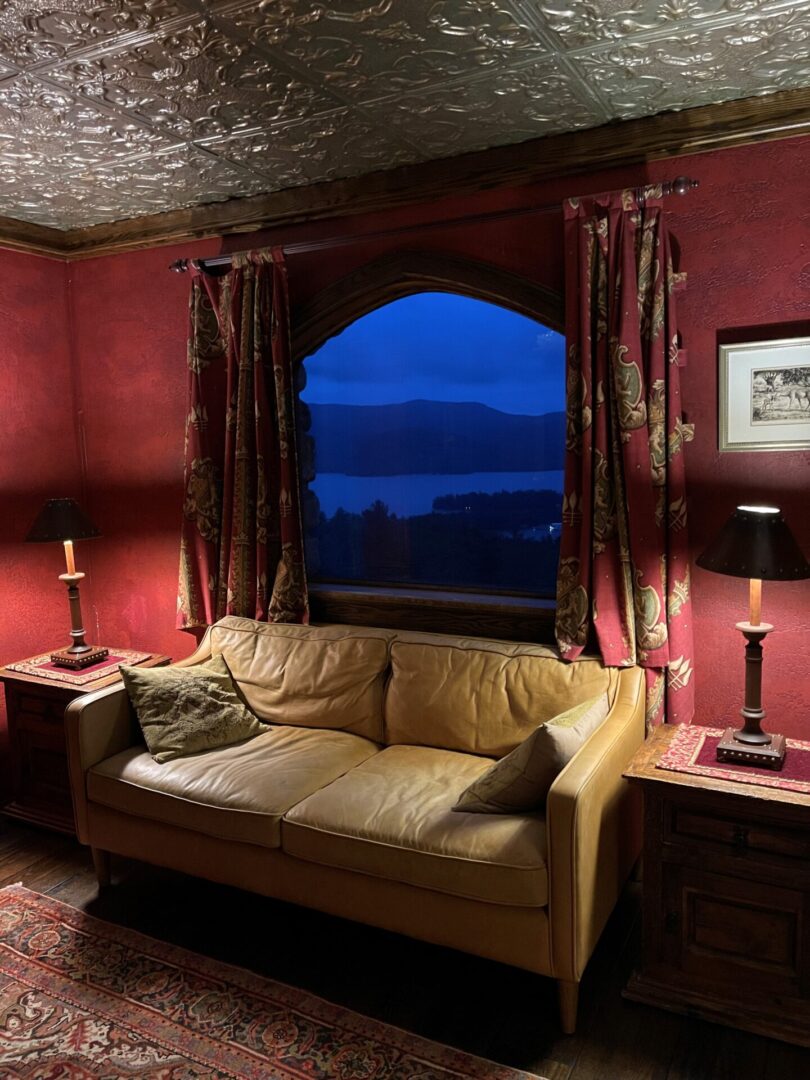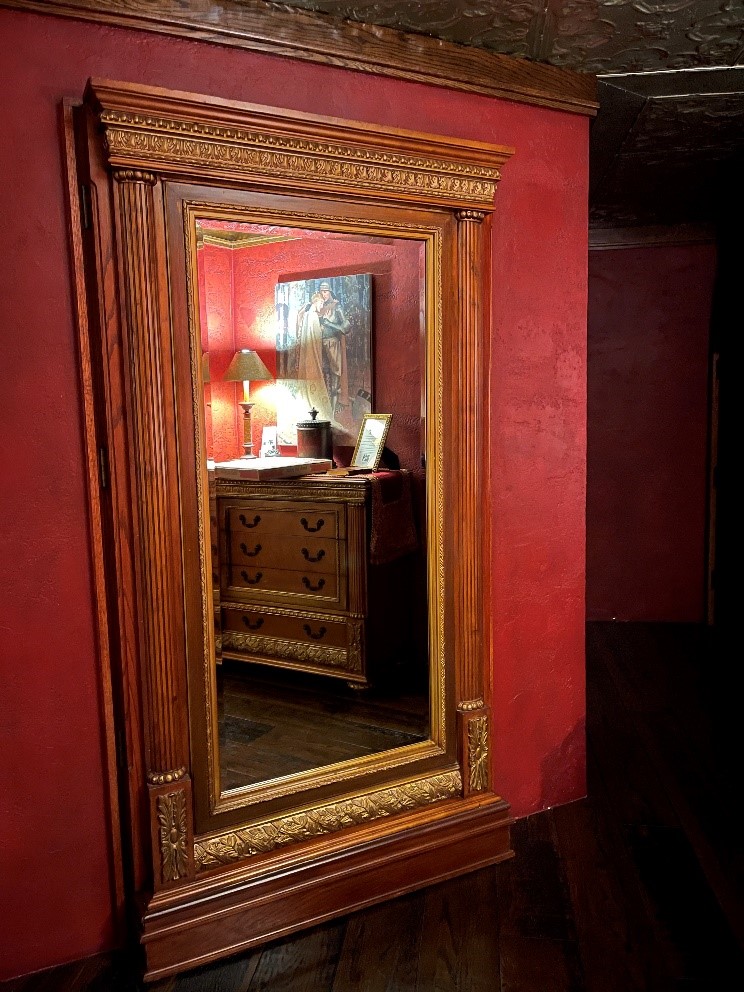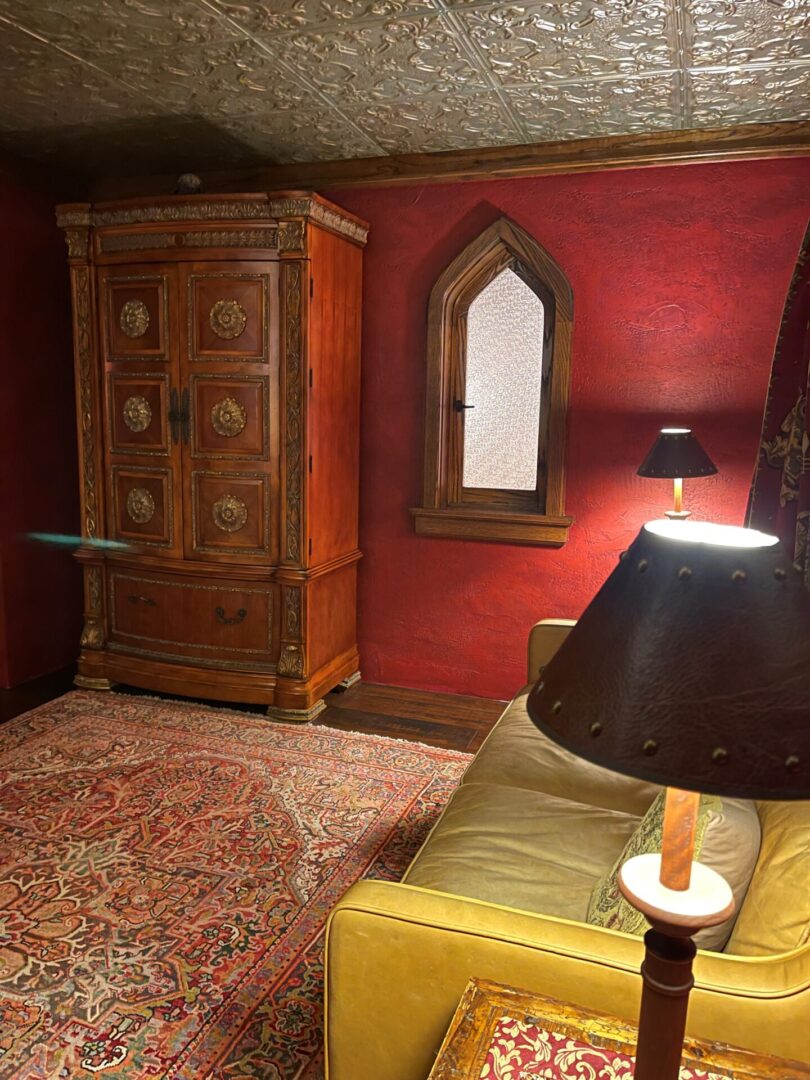 Walking into the bathroom I was immediately wowed by the large copper soaking tub, but the lions' head faucet stole the show. I was fascinated watching water flow from the lion's mouth and couldn't wait to take a video to capture the water flow.
Now that I was happily settled into the Royal Suite I needed to rush down to chat with the owners to get answers about those Romeo and Juliet stained glass doors leading into the Great room.