Castle Hot Springs is not just a resort, it's an experience! Castle Hot Springs Resort is located about one hour outside Phoenix, Arizona in the Bradshaw Mountains.
You'll need a high profile vehicle to travel the seven mile unpaved dirt road into the resort. Be prepared to drive slowly and if you're lucky, you'll see wild burros grazing by the roadside.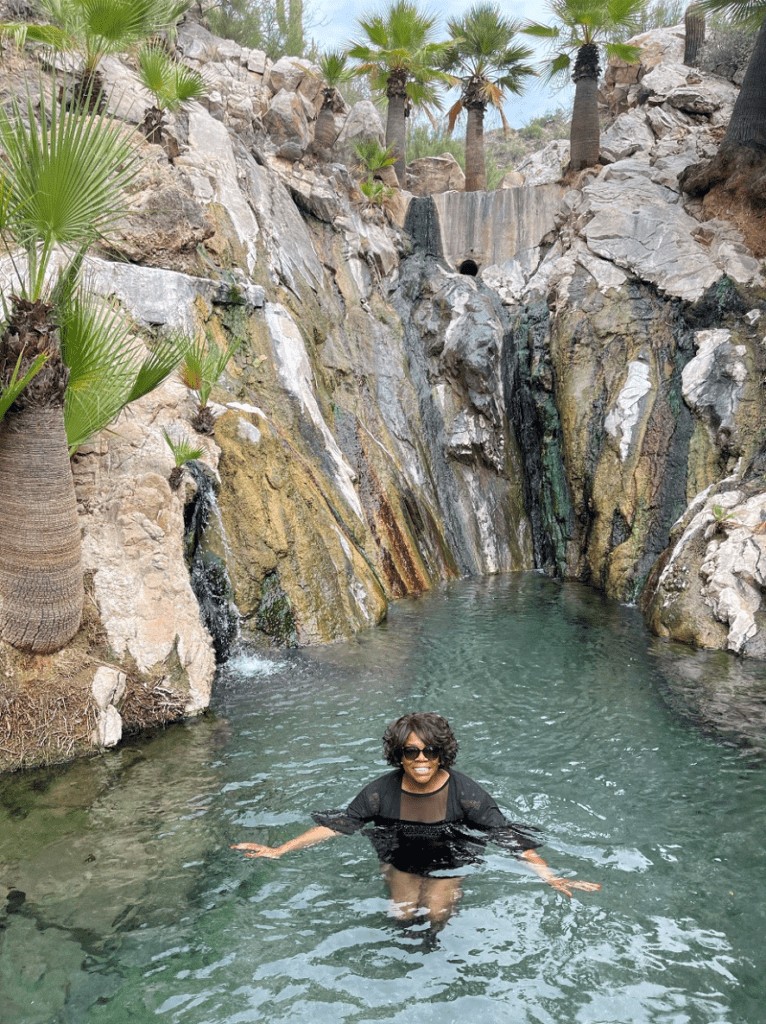 Resort Grounds. The resort grounds and mountain scenery are magnificent! As you approach the resort gates, you'll experience paradise in the desert. Beautiful Palm trees line the path into the resort, surrounded by the picturesque backdrop of Bradshaw Mountains. Perfectly manicured flower beds and plants throughout the resort provide a sense of peace.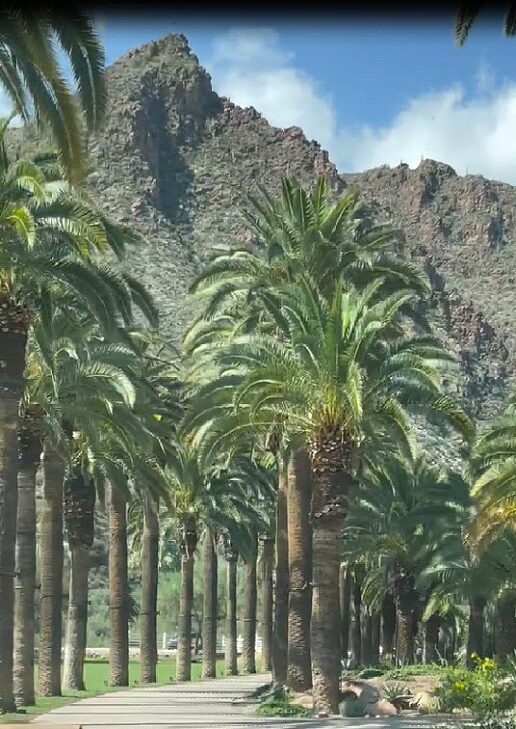 Activities. Castle Hot Springs Resort offers several daily activities free of charge, including paddleboard yoga, farm tours, pickle ball, and of course access to the hot springs.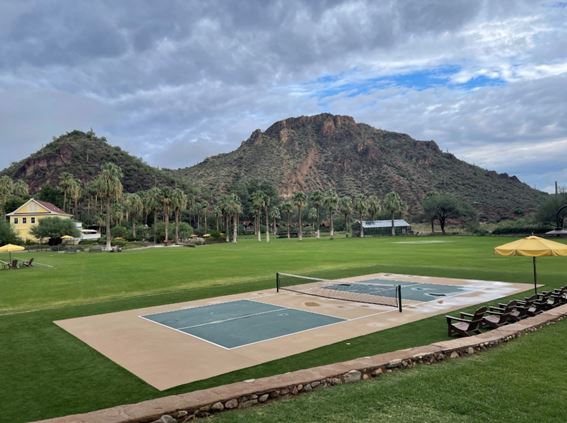 Lodging. We stayed in a beautiful Bungalow. The Bungalows have a little more space than the cabins, but you won't be disappointed with either lodging option. Our Bungalow had an indoor/outdoor fire place. The room was decorated in luxurious neutral tones with two oversized leather chairs in front of the fireplace. We spent evenings in front of our outdoor patio fireplace drinking wine and chatting about how we enjoyed our activities. My favorite spot in our Bungalow was the outdoor stone soaking tub. The Sonoma custom tub is fed by the natural hot springs.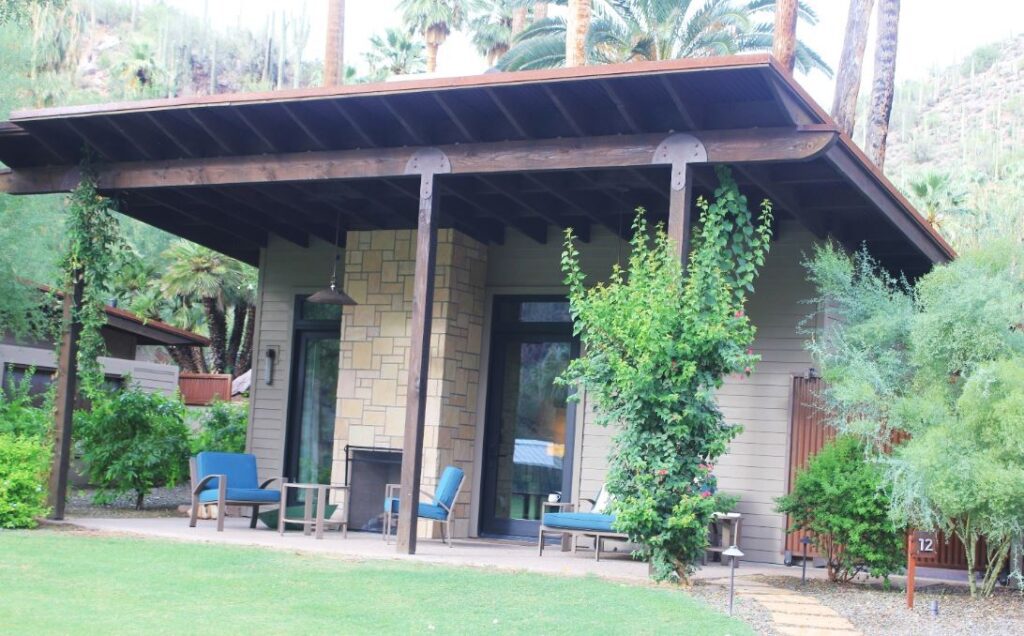 Dining. The food at Castle Hot Springs Resort is A-Mazing! Chef prepared meals for breakfast, lunch, and dinner are included with your stay. Dinners are exceptional! Dinner starts with the best naan bread baked in a wood fired pizza oven. The five course dinner is accompanied by wine recommendation for a fee. Dinner courses include: THE BEGINNING, three preselected small bites; THE MAIN, optional selections from their seasonal & sustainable source; and THE END, your choice of exquisite sweet treats.
Paid Activities. There's an exclusive Arizona via ferrata climbing course at Castle Hot Springs, but we opted to try the Aerial Walkway. There's a one mile hike up to the 200 foot long aerial bridge walkway that's high above the canyon floor. We had a wonderful time and the views were incredible. I highly recommend the aerial walkway.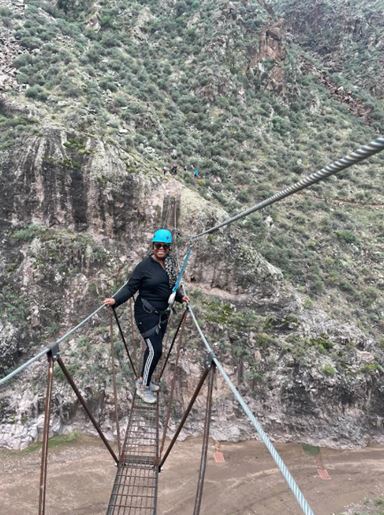 Hot Springs. Castle Hot Springs Resort has three hot spring pools where the water temperatures range from 80 to 110 degrees. You have to try all three!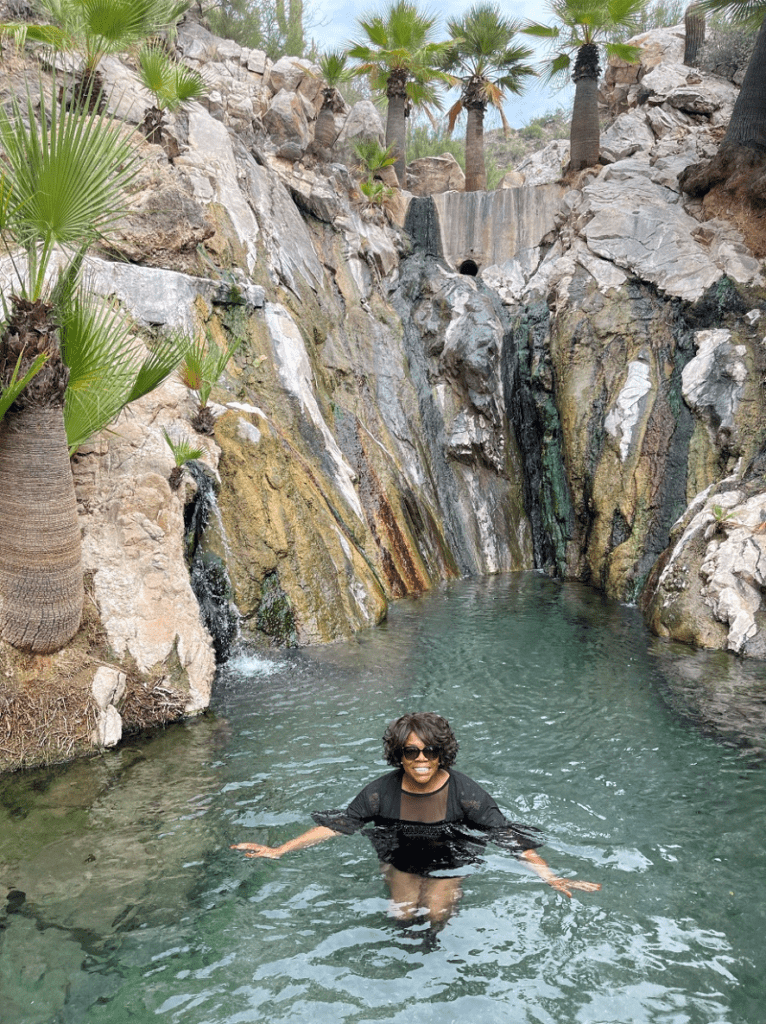 Everything at Castle Hot Springs Resort exceeded my expectations! This is truly the place to get away. I totally enjoyed nature and the beautiful scenery that surrounded me. I spent time watching humming birds and butterflies. I loved the desert oasis landscape, including palm trees, plants, flowers, the beautiful backdrop of the Bradshaw Mountains, and of course the three hot springs. I'm already planning our return visit!